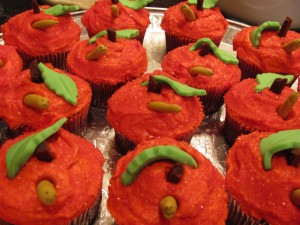 End of year festivities in my daughter's class called for dairy, peanut, egg and wheat free cupcakes.
These red sugar dusted "apples" were complete with chocolate stems, fondant leaves, and smiling worms. I rolled out and cut Enjoy Life Cocoa Loco Chewy on the Go bars. The fondant used for the leaves is an excellent substitute for marzipan. And I used Cherrybrook Kitchen's gluten-free cake mix for the cupcake.
The whole class loved them. My bet is that Snow While would love these apples, too.