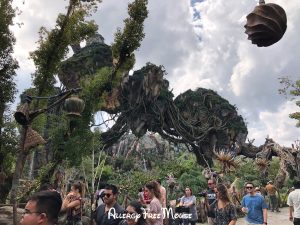 The Disney Culinary Imagineers did an amazing job putting together a menu with many delicious and unique allergen-free meals. First, it's a bit different from most other quick service locations, which is probably due to its Asian influences. First, you select your protein, like chicken, beef, tofu or shrimp. The chicken and beef are wood-grilled at a station visible upon entering the canteen. The tofu is chili-spiced and fried. Next, you select a base, such as rice or noodles, then you pick a sauce. They also have a list of combinations to make ordering easy. See the menu for the full list.
Our favorite is the chicken, rice and bean sauce, which is more of a mildly spicy vinaigrette sauce. It's delicious and we always ask for extra. This option is straight off the menu and is free of dairy, peanut and tree nut. However, we still specify our allergies when ordering. They do have an allergy menu, of course. However, after discovering this fantastic combination, we only consult it to make sure nothing has changed. You may notice on the allergy-friendly menu, most of the options are the same across allergen categories, except for fish/shellfish and soy.
As a Disney World Passholder, we have the luxury of entering a park just for a meal. On this last trip to Disney World, we made the trip on the fabulous Disney Transportation System bus all the way to Animal Kingdom just for lunch at Satu'li Canteen. It is that good. Of course, we also stopped at Tamu Tamu for a Dole Whip.
See the full menu here on the Disney website.