This quick review was provided by Laura, whose daughter is allergic to peanuts, tree nuts and sesame.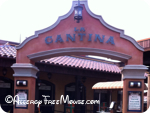 This is our go-to quick service place at Epcot. The food is exceptional and we have had countless meals here. We mention the girls allergies–peanuts, tree nuts and sesame every time and have been assured there are none of these allergens present.
My daughter is a guacamole addict and she loves to chow down on that with some of their homemade corn chips.
We also love the Chicken Cascabel –a tasty naked bowl of sorts with rice, beans and tasty tender chicken and SAUCE!! It's always a winner.
A trip doesn't go by without the Barbacoa Tacos. Can you say WOW? They are the best tacos on property in my opinion and you get a side of rice and beans with a trio of them. Quick, easy and super affordable. A favorite of everyone in our family.
We tend to avoid Mexican restaurants due to the presence of Mole (which is made with peanut butter) but there is no mole here–which makes it an excellent choice.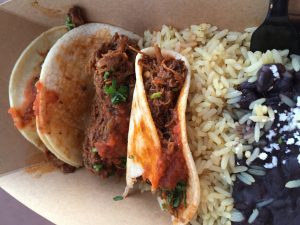 We have also eaten the cheese empanadas and while they are good they don't hold a candle to the Cascabel or the tacos. Same for Nachos–good and great to share among a group for a snack but I wouldn't pass over the two mentioned above for them.
The best part: HOMEMADE CHURROS!! As all allergy parents know, finding safe dessert options are HARD. These are not your standard Disney churros –you get a basket of 6 (I think?) circular churros and a bowl of hot caramel sauce to dip . My girls favorite part of the meal!
We can't recommend this place enough–it's our favorite!
Recommend La Cantina de San Angel for peanuts, tree nuts and sesame food allergies?: Yes
If you would like to review La Cantina de San Angel or any Disney restaurant, submit a food allergy dining Quick Review.