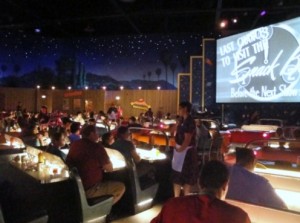 This quick review was provided Gillian, whose daughter is allergic to dairy and egg.
This was my daughter's favourite meal all week. Chef Jason spoke directly to her and asked her what she wanted to eat. He prepared a gourmet safe burger with toppings of her choice- sautéed onions, pickles, lettuce and ketchup all on a safe bun served with fries and a glowing Ariel lemonade.
The waiter was also happy to serve both of the kids apple slices (listed as a dessert) as a starter, and they brought out a safe chocolate ice-cream sundae. She loved her meal here. There was one minor hiccup here…for some reason a busser/different waiter delivered a bowl of pickles and mayo to the table where she was sitting. Not sure if that is a standard delivery or was a mistake meant for another table, but in the dark it could have easily been missed or mistaken and accidentally consumed by my daughter if she was younger or less aware.
The darkness in this venue and the way the cars are set up (kids in front, parents in back) may be uncomfortable for some allergy parents, as it makes it more challenging to see and inspect the food being delivered and eaten.
Recommend Sci-Fi Dine-In Theater for dairy and egg free?: Yes
If you would like to review Sci-Fi Dine-In Theater or any Disney restaurant, submit a food allergy dining Quick Review.