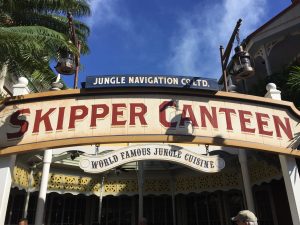 This quick review was provided Gillian, whose daughter is allergic to dairy and egg.
Before dining at this restaurant I reviewed the menu and found on-line versions of the allergy menu so that I would have a good idea of what might be safe for my daughter ahead of time. It was a good thing I did, because we were told that there were no allergy menus available on that day.
The waiter brought the chef who asked what she would like. He told us many of the proteins could be prepared safely. WE asked if the Tiki Tiki Fishy Fishy on the regular kids menu would be safe and he said it was and he would make sure she got some trainer chopsticks to eat it with! She was also able to have the feature frozen slushy from the menu and a full plate of Enjoy Life cookies.
Recommend Skipper Canteen for dairy and egg free?: Yes
If you would like to review Skipper Canteen or any Disney restaurant, submit a food allergy dining Quick Review.