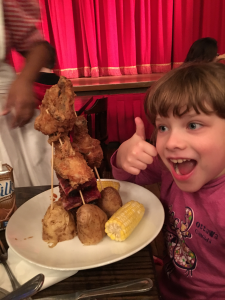 This quick review was provided Gillian, whose daughter is allergic to dairy and egg.
A favourite dining experience for our whole family. My kids thought the whole show was hysterical. We were so excited to see that the "famous" Chef TJ would be looking after my daughter's meal here and he did not disappoint.
He made her a tower of safe foods including her first ever fried chicken, ribs, baked potatoes, corn and a bucket of fresh delicious salad with a safe specially made Italian dressing.
Dessert was a huge tower of sugary delights, cookies and ice-cream topped off with cotton candy and syrup. It was a magical evening that won't soon be forgotten or topped.
Recommend Hoop Dee Doo Musical Review for dairy and egg free?: Yes
If you would like to review Hoop Dee Doo Musical Review or any Disney restaurant, submit a food allergy dining Quick Review.