This quick review was provided by Gillian, whose daughter is allergic to dairy and egg.
We had a great experience here. The waitress offered to bring the chef to discuss safe options for my daughter. We ordered the beef off the children's allergy menu and requested plain rice instead of mashed potatoes.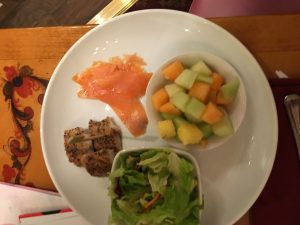 It was delicious. There was also a number of safe starter options from the buffet and the chef offered to bring her a plate of safe things to sample and make a garden salad with a simple oil and vinegar dressing. I thought it was great that he was willing to prepare several foods for her to try just like everyone else.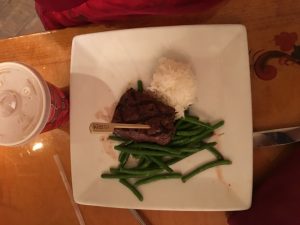 We were surprised to find out that she loved the peppered Mackerel! There were also several safe options for dessert, but we had ordered a cake from Erin McKenna's, so decided to pass on any other options here.
Recommend Akershus Royal Banquet Hall for dairy and egg free dining?: Yes
If you would like to review Akershus Royal Banquet Hall or any Disney restaurant, submit a food allergy dining Quick Review.