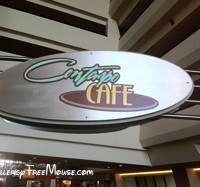 I saved this one for last because we ate here for 3 breakfasts, one lunch, one dinner and a packed lunch for our daughter for the journey home.  I have mixed feelings about this place.  In general we were satisfied with the breakfast food quality here, but really did not enjoy the lunch or dinner we had here.
The bbq chicken pizza my husband ordered was goopy and covered in sickly sweet bbq sauce, mayo (?) and mounds of greasy cheese.  I had a grilled steak salad and could barely eat it because it was swimming in dressing and oil.
However, the main issue at this place was the inconsistency between the managers when ordering our daughter's food.  On our first visit, the manager told me the only safe option on the dinner menu for our daughter was the allergy tenders and fries.  In her words, "they are the only thing I can for sure guarantee".  So that's what we ordered. She also gave us a cupcake from Chef Mickey's.
But then the next manager at lunch told me she had a lot of options and proceeded to pull out the allergy menu.  The tuna sandwich was listed on the egg allergy menu, which I thought was suspicious.  I questioned the manager (young blonde lady) and she kept saying the tuna sandwich was fine because it was on the menu.  She offered to get the ingredients binder which on closer inspection listed :"egg yolk" as I suspected in the mayo.  Then she continued to try and convince me that it was still safe because "egg" was not listed in bold as an allergen despite the clear listing of it in the ingredient.  I lost all confidence and asked if we could just have the allergy tenders again made in the dedicated fryer.  I also asked if we could have a cupcake, and she said no they were for Chef Mickey's guests only.  She gave me a small pack of Enjoy Life cookies.
Later that evening I went back to Contempo to see if I could get a cupcake for our daughter to take to CRT the next day.  The male manager at the time, got me 2 from Chef Mickeys but as he handed them over, said "you got the last two from Chef Mickey's, now they don't even have any."  This made me feel really bad.  I hope we didn't ruin the night for another allergy kid.  On our second and third breakfast, Brenda was available to help me order breakfast and a safe lunch for our ride home.  She was fabulous, making our daughter waffles and giving us lots of those little packets of fruit and carrots to have in the parks.   She packed our daughter a goldfish sandwich and gave her some extra treats.  Thank you Brenda!
Read the full Disney World food allergy trip report here.
Recommend Contempo Cafe for dairy and egg free?: Maybe, but be careful.
If you would like to review Contempo Cafe or any Disney restaurant, submit a food allergy dining Quick Review.