Dietary Restrictions:
Anaphylaxis to tree nuts and peanuts
Severe dairy intolerance (possible allergy)
Vegetarian (vegan preferred)
Disney Dream – November 2015
Palo
On every one of our four Disney cruises, everyone kept telling us that we had to dine a Palo. With food allergies, intolerances, and preferences, we weren't sure if we could eat anything there or if it would be worth it. Well, we were wrong, and everyone else was right. We made reservations at Palo for our most recent cruise, and will do so for every future Disney cruise we take.
Per our main dining room server's recommendation, we went to Palo the evening before our reservation to talk to the restaurant manager, Gonzalo. We were able to sit down with Gonzalo to discuss our restrictions. He reviewed some menu ideas with us and assured us that our meals would be perfectly safe. They would even make dessert!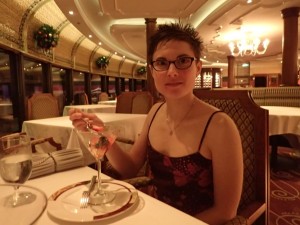 With excitement (and a little hesitation on my part), we arrived for our reservation. We were treated to a spectacular experience; the best food and service on our entire holiday. They made me fresh bread – bread, just for me! – with artichoke hearts and three types of olives, topped with olive oil and 8 year-old balsamic vinegar. Our salad was arugula with grilled asparagus, tomato, courgette, and shredded carrot, again toped with the delightful olive oil and vinegar and a selection of specialty salts. (Smoked salt is my favourite.) The salad has so many flavours. Being an Italian restaurant, the entrée was penne pasta with olive oil, sun dried tomatoes, arugula, garlic, and fresh basil. The flavours complemented each other perfectly. For dessert they made lemon sorbet, strawberry basil sorbet, and fresh berries. We both loved the strawberry basil sorbet! (I would have had seconds if I wasn't so full.)
Each step of the way, Gonzalo was checking in, explaining ingredients, and making sure everything was perfect. It was a perfect evening and we are counting down the days until we can check in and make Palo reservations for our next Disney cruise (in June 2015).
Cabanas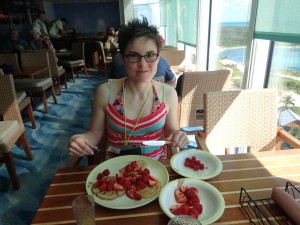 We had some pretty good food in the main dining rooms on this cruise. However, our schedule didn't always align with the main dining room hours. After running the Castaway Cay 5K, you get pretty hungry… so I pre-ordered some pancakes and fruit at Cabanas for after the run. (I actually ordered waffles, but they couldn't make them for allergies due to cross-contact.) It took about ten minutes for the chef to prepare my order, and then I had more pancakes and fruit than I could eat. Thankfully, my husband was willing to help me out.
Castaway Cay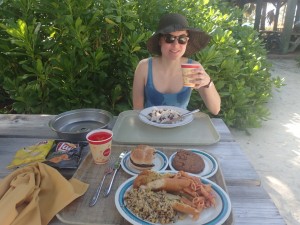 As usual, I preordered my meal for on the island. This time, I asked for one of my favourite things to eat at home: rice and beans. I think the chefs took it a little too literally, as I had plain rice and plain beans mixed together without any seasonings or vegetables or anything. Not exactly my favourite meal of the trip, but not as bad as the vegetarian chilli I had the day before (also on Castaway Cay, it tasted like ketchup). Thank goodness they had some fresh fruit and plain Lays crisps to munch on. Overall, the food I had on Castaway Cay was less than stellar, but at least it was safe. Next time I'll be much more specific when I preorder my meal for on the island. (Kyle had some vegetarian options on his plate – much more to choose from, and I was a bit jealous of his mixed rice.)