Dietary Restrictions:
Anaphylaxis to tree nuts and peanuts
Severe dairy intolerance (possible allergy)
Vegetarian (vegan preferred)
Walt Disney World – November 2014
Fort Wilderness – Trail's End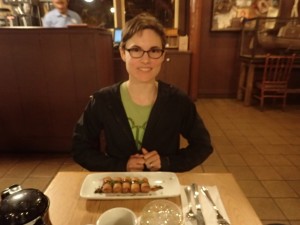 I've only heard of the legendary Chef TJ and the works of edible art he creates. We had a free evening and were able to get some reservations, and were completely blown away. Whilst my husband ate from the buffet, Chef TJ created a six-course meal for me. It was more food than I could eat in two days, yet alone one meal!
To start: a basic salad with some grilled vegetables and a vinaigrette dressing.
Next up… and I thought this was my main course: vegetarian spring rolls with a sweet and sour type sauce on top. They were delicious! I ate them all. Then Chef TJ came out to say my second appetiser was on its way. Second appetiser???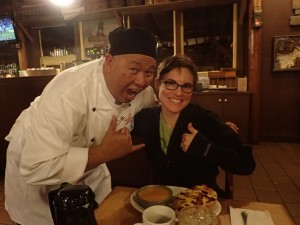 Chef TJ is truly amazing! This was the second appetiser: coconut carrot ginger soup (my new favourite soup), with some nacho toast? I wasn't really sure what it was, but it was toast with salsa and melted Daiya cheese with a barbecue sauce on top. Pretty good, actually, but I liked the soup better so it disappeared first. I couldn't finish this course, especially with the thought of an entrée and dessert yet to come…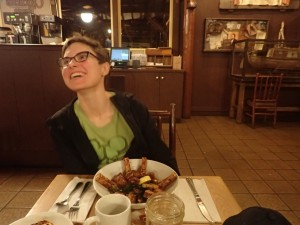 And there it was, the main event, and it really was an event. Grilled tofu strips with roasted vegetables, barbecued potatoes, and a delicious barbecue sauce. It was like nothing I had tasted before, and it was amazing. Of course, I couldn't eat half of it (and even that was a challenge), so Chef TJ boxed it up for us to take back to our resort. (We ate it for breakfast the next day…)
And then an epic dessert: a tower of fruit and chocolate with a cupcake, swimming in strawberry sauce. Pretty much the best dessert ever… so I had to find room to eat some of it. (The rest was packed up for breakfast…)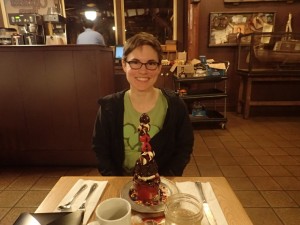 After two hours of eating, because the meal took at least that long (really), we waddled back to the bus stop and back to our hotel room. I would definitely recommend visiting Trail's End when Chef TJ is working. Just come hungry, and don't rush. My husband wanted to return to Trail's End once more during our trip, because of how well I was treated and how happy I was with my meal, but I didn't think my stomach could handle that much food twice in one holiday. (I never thought I'd say that.)
Port Orleans Riverside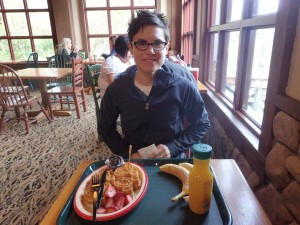 Two words: Mickey Waffles!! Every single morning (except the day we ate leftovers from Trail's End). Add some fresh strawberries and pure maple syrup and I couldn't be happier. Pretty much the best breakfast you can get at Walt Disney World – or possibly anywhere. (These were Namaste brand mix made with apple juice.) I wish they made Mickey waffle makers to buy and use at home.
Magic Kingdom – Mickey's Very Merry Christmas Party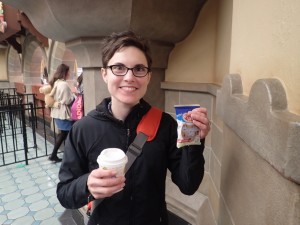 The first thing we noticed about the Christmas Party, by looking at the map, was that they now advertise that they have EpiPens at the first aid stations – kudos to Disney for that. Next, they said there were free cookies and hot chocolate at select locations. Not exactly exciting for people with allergies, but I asked if they had any alternates and was given options – yes, options! – of apple juice, apple slices (prepackaged), and/or Enjoy Life cookies (prepackaged). I was pretty excited to have choices, all of which I liked. We were able to get the same safe snack options both times we went to the Christmas Party, and from different locations within the park.
Animal Kingdom – Allergy Food Kiosk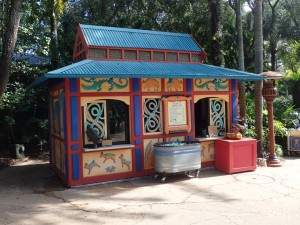 A food cart dedicated to food for people with special diets, wow! I could only have the Enjoy Life cookies and bananas, but just the whole idea that something like this exists is fantastic!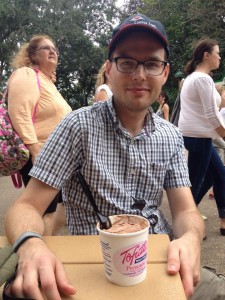 My husband ordered some Tofutti frozen dessert, especting a small scoop in a bowl, and was happily surprised to get a whole TUB of frozen dessert. It was the highlight of his trip, even more than meeting the talking Mickey Mouse. I don't think he was sad that I couldn't have any, because he ate the whole tub himself and had a grin on his face for the rest of the day. And we went back another day… and he couldn't stop smiling the whole day.
Other:
We dined at many other Disney restaurants during our trip: Rose and Crown, Le Cellier, The Wave (twice), California Grill (during the fireworks), Tony's Town Square, and more… I just didn't get pictures at them all. (Kyle was only taking photos of my food whenever I was really excited about something, or not so thrilled on Castaway Cay.) The Wave was one of our favourites, definitely, and we'll go there for lunch every day we are in the Magic Kingdom next trip, I think. Their autumn curry stew was so good I ordered it twice this trip.