This quick review was provided by Amanda, who is allergic to dairy, soy, gluten, and tree nuts.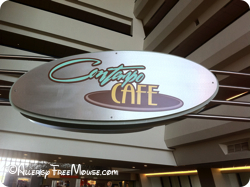 I am writing this review as a reminder that as good as Disney is with food allergies, major mistakes can still be made. I went to the Contempo Cafe for breakfast in May 2014, and after speaking with the manager put in my order for an allergen free Mickey waffle. When the cashier entered our order into the computer, she forgot to mark my meal as an allergy, so a regular waffle was brought to me instead.
Since it was our first day there, I was unaware that a manager always hand delivers allergy friendly meals to the guests who ordered them, so I assumed that the waffle brought to me was the allergy-friendly one and ate it. By the time the manager came to correct the problem, I had eaten the entire waffle full of gluten and whole milk. The manager handled everything very well, making sure I had Benedryl and an epi-pen, and offering to get me medical attention if needed. However, it goes to show that even in a place as food allergy friendly asDisney World, we should always be careful and confirm that the food delivered to us is in fact allergen free.
Recommend for dairy, soy, gluten, and tree nuts: Maybe
If you would like to review Contempo Cafe or any Disney restaurant, submit a food allergy dining Quick Review.