This quick review was provided by Meghan, whose son is allergic to milk, egg and peanut.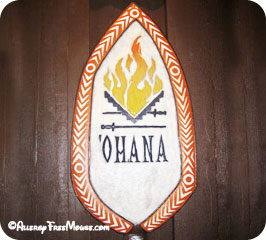 We did the character breakfast and had a great meal and experience. We had a party of 11 ages 4-66. My 4 year old son is allergic to milk, egg and peanut. The chef came out and explained their food prep and the would make a buckwheat waffle with sides of bacon, sausage and potatoes for him. My son doesn't like sausage or potatoes so he didn't eat either but he loved the waffles, bacon, fresh fruit and juice. I taste tested the waffles and they were really good! The character interaction was fun for everyone. I was skeptical because my 4 year old twins weren't familiar with Lilo and Stitch, but they thought Stitch was funny. They loved meeting Mickey and Pluto. The rest of the family loved the food.
Highly recommend!!
Recommend for milk, egg and peanut: Yes
If you would like to review 'Ohana or any Disney restaurant, submit a food allergy dining Quick Review.