This quick review was provided by Sheri, whose daughter is allergic to dairy and egg.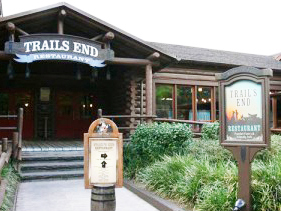 My family recently took a vacation to Walt Disney World. Our first meal was at the Trail's End at the Fort Wilderness campground. I had made advanced reservations for all of our table service restaurants well in advance and had our allergies noted at that time. Our party consisted of my in laws, my husband, myself, and our 7 year old daughter who has severe dairy and egg allergies. My husband and I eat on her diet when we are with her.
Trail's End is a buffet and my in laws were able to start eating right away. we are used to waiting for a chef to come out but this time the chef was very quick, we did not even have time to place out drink orders before he showed up! He offered to walk us through the buffet and show us what we could have and what he could modify for us. I know that many people with allergies are rightly worried about cross contamination at buffet setting and I would like to note that we were the first seating of the evening and the buffet was virtually untouched. However, the chef still offered to make us a separate dish of anything we wanted if we had any concerns.
The chef was wonderful. he talked directly to our daughter, and the first thing he said was he would not let her leave without dessert (if mom and dad approved). Then he showed her what was ok. and most of the dinner foods were OK! pulled pork, ribs, fried and baked chicken, baked potatoes, and green beans were all safe. the corn had butter added but the chef offered to bring us some butter free corn. He also sent a dish of earth balance buttery spread to the table for our potatoes. My daughter saw salmon on the buffet and asked about it, it was not OK but the chef made her special salmon and she ate every bite of it (much to his delight). Corn bread and all desserts were off limits but this is something we are used to.
The food was wonderful as was the service. After we had eaten "all we cared to enjoy" our daughter got a dairyegg free ice cream sunday with chocolate sauce and gummy bears. The chef came back at the end of our meal to thank us and told our daughter that he would be happy to cook for her whenever she came back. The experience was so great I considered canceling my other reservations to come back. Our waiter let us know that there were hula hoops and horseshoes waiting to be played with outside after we left.
This was hands down my favorite meal of the trip. And that is due to the wonderful service from the staff and chef. They in no way seemed inconvenienced by us being there and went out of their way to give my daughter a "normal" meal. And as any parent of an allergic child knows, it just does not get any better than that.
Recommend for dairy and egg: Yes
If you would like to review Trail's End or any Disney restaurant, submit a food allergy dining Quick Review.