This quick review was provided by Sheri, whose daughter is allergic to dairy and egg.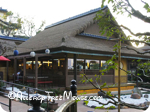 We stopped here for a quick dinner on 5-10-13 because from first glance the menu seemed very accommodating to our daughter's severe dairy and egg allergies. once inside we asked to speak with someone about allergies and the waitstaff was quick to get ahold of the manager on duty. We informed him of our allergies and he pulled out the binder with the ingredient list for us.
We eat Japanese food quite often because, while we do need to be on a sharp lookout for eggs, the use of dairy is almost non existent. Imagine our surprise when we found out that the teriyaki sauce contained whey. This meant that all that nearly all the items on the menu had milk in them. The manager explained that while the beef and chicken dished were marinated in the teriyaki sauce but the salmon was not. He offered to make us plain grilled salmon with vegetables and white rice. Our seven year old is not a chicken nugget and french fries kind of girl and salmon is one of her favorite foods. So she and my husband had salmon. We were there at a slow time and the waitresses kept my daughter entertained and even made her an origami crane as a keepsake!
While the food was not what we expected the staff went above and beyond to accommodate us.
Recommend for dairy and egg: Maybe
If you would like to review Katsura Grill or any Disney restaurant, submit a food allergy dining Quick Review.