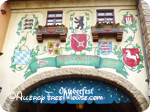 This quick review was provided by Bill, whose wife has Celiac disorder.
Once again, we talked to our waitress and the chef came out and took my wife to the buffet tables and explained all that she could eat. Great experience, we will go back on our next trip. Thanks for the good time Disney!
Recommend for gluten free: Yes
If you would like to review Biergarten Restaurant or any Disney restaurant, submit a food allergy dining Quick Review.