This quick review was provided by Gretchen, whose son is allergic to peanut, cashew, egg, and dairy.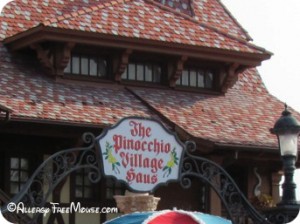 We heard from others this was not the most allergy-friendly counter-service place at Disney, so we came prepared with food we brought in from our room for my DS. When placing our order, we asked if they could make french fries allergy-free. The Cast Member said we'd need to speak to a manager, so we just ordered all our other food and stood to the side and waited for a manager. We waited 5 minutes after receiving our food and just gave up.
About half-way through our meal, my DS was begging to eat some of our fries, so my husband went back to wait for a manager. After 10 minutes, one finally arrived and said they could bake some fries but it would take 15 minutes. We received a pager and got them in the time stated. They were fresh from the oven and, of course, not able to be eated right away by a 3yo son.
So, we just took them with us on the road (in the tupperware we brought his lunch in from our room). Those fries were a good snack later while waiting for the train and parade. Disney really needs a more allergy-friendly option in the heart of Fantasyland – which is where all the kids are!
Recommend for peanut, cashew, egg, dairy: No
If you would like to review Pinocchio Village Haus or any Disney restaurant, submit a food allergy dining Quick Review.