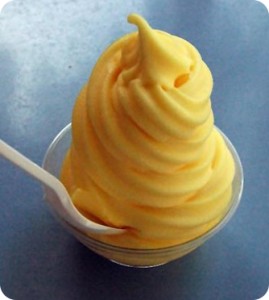 We're still researching this, but a reader notified us of Dole pineapple soft serve ingredient changes on the Precision Foods website. Basically, they have reformulated it removing the sodium caseinate (a derivative of the milk protein) which now qualifies it as truly dairy-free, lactose-free and gluten-free, as well as free of the other food allergy ingredients in the "big 8 food allergens" by the FDA. In fact, the ingredients also state it is vegan.
Here is the latest Pineapple Dole Whip ingredient list. Dole tells us this also applies to the orange soft serve, too.
However, while the ingredients are dairy free, Disney Special Diets tells us that it may be served on the same equipment as the vanilla soft serve, which does contain dairy. Therefore, cross-contamination is a potential hazard. Additionally, Aloha Isle may not have the necessary preparation space to prevent cross-contamination.
UPDATE: The equipment used to dispense the Dole Whip product has a nozzle for each flavor. However, while this is good news, you should still mention your food allergies to the Cast Member at the Aloha Isle, making sure they take precautions to avoid cross contamination. You might even request a fresh cup from an unopened package.
Again, proceed with caution if you are allergic to dairy and go with your gut instinct if you feel uncomfortable — walk away, it's just a Dole Whip.
If you have any firsthand experience and can let us know, please contact us.