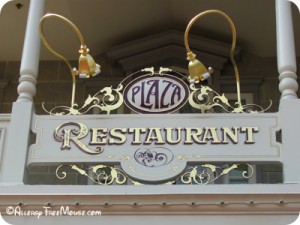 The Plaza Restaurant is located in the Magic Kingdom, and is a Victorian Garden room. There is an ice cream parlor attached, but we steer clear of that! Even if they offered Soy Delicious Ice Cream, it could easily be cross-contaminated.
However, the Plaza Restaurant offers a variety of sandwichs, soups and salads. Our daughter had a turkey sandwich on an Ener-G roll, fries and fresh fruit. As always, we asked to see the chef, and he took great care of her. She devoured the sandwich, fries and fruit. Then, as an extra special treat, the Chef brought out Enjoy Life Foods cookies for dessert.
This is a great stop with some good healthy options. But, my husband ordered a cheesesteak sandwich, with the usual fries. He was very happy with this. I ordered a hummus sandwich, with cheese. It's probably my favorite sandwich in the park. We will be back!