This quick review was provided by Laura, whose daughter is allergic to peanuts and avoids tree nuts.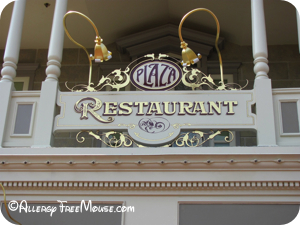 Our family is lucky enough to travel to Disney World at least two times a year and until this last trip we have avoided the Plaza restaurant because I was convinced they would not be able to properly handle my 6yo daughter's peanut allergy. I was aware that the menu featured ice cream sundae's for dessert and didn't want to take the risks that usually accompany ice cream parlors. However, one evening we did not make dining reservations in advance and were faced with heading back to our resort, a walk-up, or giving The Plaza a try. We asked the hostess if they could accommodate my daughter's allergy without advance notice and of course they could.
The hostess took extra time to clean our table in my presence after I voiced my concerns and informed our waitress of my daughter's allergies. While taking our drink orders she informed us the Chef would be out shortly to talk with us about our allergy concerns. I am very familiar with the allergy policy and practices at Disney and was extremely impressed with the extra time and attention Chef Ken gave to my daughter and our whole party.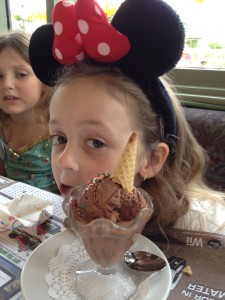 When the Chef came to our table he asked my daughter's cousin what my daughter's allergy was and explained to them both that it was very important that they both understood what her allergy was and what it meant to have a life-threatening peanut allergy. After discussing this with the girls he asked my daughter what she would like to eat and she replied by asking what she could have. Chef Ken again asked first what she would like to have and when she answered with a sandwich (which
she could have) he continued to offer more options that you can imagine for sides. She was so excited to be able to have a ham and cheese sandwich with fruit and her cousin ordered with the chef at the same time to make her feel special as well. Her cousin chose a turkey sandwich and had soup as her side. The adults in the party had a mixture of burgers, sandwiches and salads which we all thought were very good.
Then the inevitable question came, What would she like for dessert and I was just waiting for my daughter's disappointment when she was told she could not have ice cream….again. To my surprise Chef Ken said that she could have ice cream and not only that she could have chocolate and have it in a CONE, her first ice cream cone ever! She was all smiles from ear to ear! After many questions from me to Chef Ken assured me that it was peanut free. He even visited our table multiple times to make sure she was okay and enjoying everything. The memory of her being able to share an ice cream sundae in a restaurant is one I never thought I would be able to have, how could I have doubted Disney Magic? I can't thank Chef Ken enough, that dinner was our best memory of the trip!
Recommend for peanuts and tree nuts: Yes
If you would like to review The Plaza Restaurant, or any Disney restaurant, submit a food allergy dining Quick Review.