Kelly shared these reviews with us. Her sons have multiple food allergies, including peanuts, tree nuts, egg, dairy, sesame seeds and bananas.
One of the reasons I initially wanted to take the kids to Disney World was I had heard they accommodate food allergies.  This is always a huge stress for me when we travel.
Disney has food allergy policies in place that really keep there guests safe and relieve some of the stress.  I made restaurant reservations on Disney's website.  When making the reservation I was asked to check off which allergies are in my party.  Then I was told to contact Special.Diets@DisneyWorld.com and they sent me forms to fill out.  Those forms were sent to each restaurant.  They then sent a confirming email and asked that when we got to restaurant to mention the allergies once again and the chef will come out and talk to us.  The following is our experience at Downtown Disney, Magic Kingdom and Hollywood Studios.
Rainforest Cafe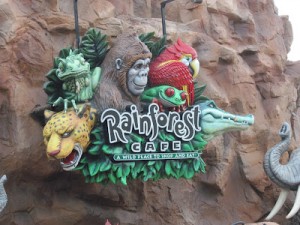 The first full day of our vacation we decompressed at the hotel pool and then headed over to Downtown Disney for a late lunch and a little shopping.  We had a reservation at The Rainforest Cafe
Rainforest Cafe has a really fun atmosphere for the kids.  You are surrounded by lifelike jungle animals and huge fish tanks.  Every 20 minutes or so there was a "thunder and lighting storm."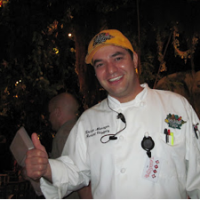 We informed our server, Shawn, that we had two kids at our table with food allergies.  He sent out the chef.
Chef Richard assured us Nolan could have the chicken tenders and that he would make something special for Sean–two plain hamburgers and fries that would cooked in a separate part of the kitchen.
After a long day at the pool, these boys cleaned their plates—so did the adults, the food was good.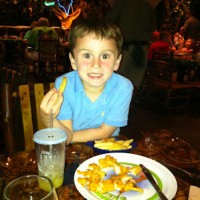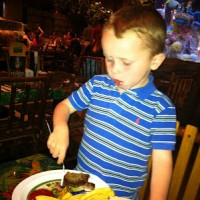 Babycakes NYC
One of the main reasons I wanted to check out Downtown Disney was Babycakes NYC.  This wonderful bakery is peanut and tree nut free, egg-free, dairy-free, gluten-free, soy-free, sesame seed-free.  Correction by AFM: BabyCakesNYC does not claim to be peanut free or tree nut free, due to the way their gluten-free flours are packaged.
I told Sean that this was a very special safe bakery and that he could pick out whatever he wanted.  He couldn't believe his eyes.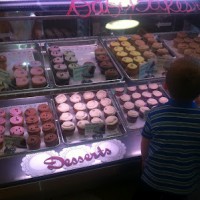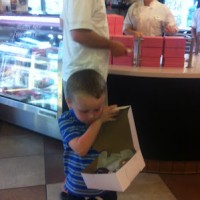 Sean ended up with two cupcakes, some chocolate chip cookies and chocolate frosted donut.  He has never had a donut!  We brought the box of treats back to the hotel and he saved one for each day.  He was so happy.  Mumma was so happy.
The Plaza Restaurant 
The first day in the parks we went to lunch in Magic Kingdom at The Plaza Restaurant.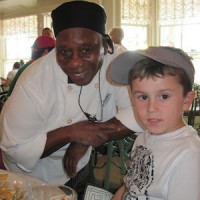 This time two chefs came right out, armed with a book of everything they served and all the ingredients. Nolan settled on a grilled cheese and Sean once again had a hamburger.  We were again assured that it would be cooked safely in a separate part of the kitchen.
They brought out some apple slices and crayons to keep little hands busy, while we waited for our food.
Sean cleaned his plate once again.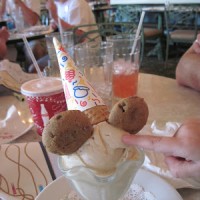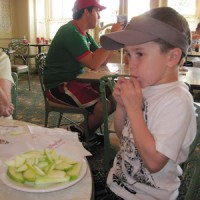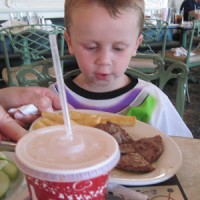 Sean could even have dessert.  They had Rice Dream ice cream, a dairy-free treat that he loves, with Enjoy Life cookies for ears!
Backlot Express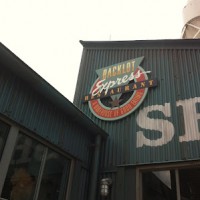 The next day we had lunch in Hollywood Studios at The Backlot Express.
The Backlot was an express type restaurant, which I was a bit apprehensive about.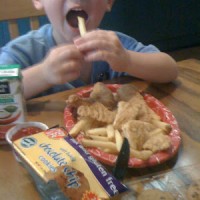 When placing our order with Cody, I informed him of our food allergies.  I have to say it was one of the best experiences.  Cody was so helpful and then Chef Christa came out with that magic book.  This time there were chicken tenders and natural cut french fries that Sean could have.  And more Enjoy Life cookies 🙂
Every restaurant, express and sit-down, has a food allergy book, as well as every snack stand. Even the popcorn stand had a book.  Sean and Nolan could have the popcorn too.
All-in-all we had great experiences eating in Disney World.  Sean and Nolan eat like kings!
Thanks to Kelly Lessard for sharing her Disney food allergy dining experiences. You can read more about her family's food allergy adventures at her blog. If you found this review useful, please give her a Thumbs Up!