We are so excited to have Jane provide this guest review of her gluten-free dining experience.
My family and I recently returned from an annual trip to Disney World. One of the most surprising dining experiences was at the Garden Grill in Epcot, the wonderful revolving restaurant. Reservations had been made, as our party has two people with Celiac disease, no wheat, gluten, barley or oats and one Vegetarian.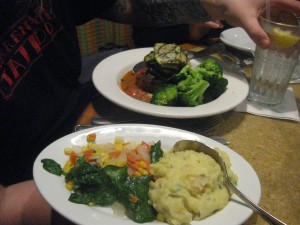 We were greeted and escorted to our table quickly around 6:00 pm, restaurant was full. This is also a character dining experience, you get to meet Goofy, Pluto and Chip & Dale while you dine. My grandson is getting a little old (almost 12) for pictures with characters, but he humored us adults. The waitress, a lovely woman from Brazil was very pleasant and helpful, when she saw the tickets with the allergies listed she immediately said the Chef would be right out. Chef arrived and talked over everything with us. Surprisingly all the food was Gluten free except the rolls, but gluten free rolls would be provided.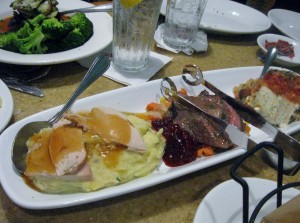 This restaurant is family style with servings of Roast Beef, Roast Turkey and Baked Fish. There is also a wonderful large salad served, which was brought with the bacon bits on the side.The vegetarian offering was really generous, my son received a very large plate of mixed vegetables with mashed potatoes and two smaller sides. The waitress informed him that the rice was cooked in chicken broth and for him to avoid it, she then brought the two smaller sides to fill in his selection for him.
Everything was delicious, and served so nicely, not the usual platters and bowls full of food, but all arranged beautifully on a long platter. We did get a second platter and put a pretty good dent in it.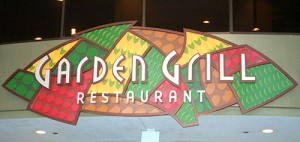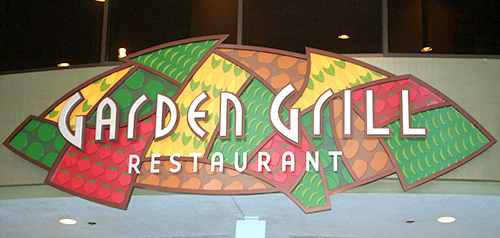 The Turkey was served with mashed potatoes & gravy, the roast beef had a wine butter and the baked fish was served over rice, there was also a dish of green beans. Dessert was warm apple crisp and brownie sundaes for the those who could not eat oats.
This was a very enjoyable dining experience and I would recommend it to anyone with any food allergy, they can accommodate you.
Bye for now, Jane
Thank you, Jane, for submitting this review of The Garden Grill. If you found this helpful, please be sure to give her a thumbs up or share this on Facebook.