When one of our Twitter friends, Candice (
@Candicerose90
), asked us for our favorite Disney Boardwalk restaurant, we had to confess we had never been there. Then, we asked her to share her experience here, and she graciously accepted!
When I first went gluten-free, we had an upcoming trip to Disney planned. I had slowly started to see how the diet had a positive impact on my health, and was concerned with how I was going to maintain the diet away from home. With a little research and hearing from others experiences, I was ensured I would be in good hands.
I had no idea what to expect (it was literally my first dining experience away from home!) Boy, was my bar set high after dining at Disney! From having the chefs come out and personally speak with me to enjoying all the delicious gluten-free meals, I was blown away by how accommodating Disney was. It was an extra special trip, because it was the first vacation that I had experienced in five years without being sick. I truly experienced the "magic of Disney."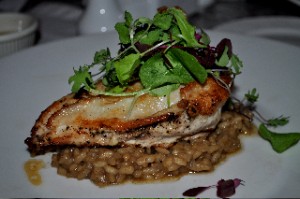 After having a wonderful experience two years ago my family and I recently returned to Orlando knowing that I would be able to enjoy great, safe meals throughout the week (since dining at Disney the first time I am now also dairy-free). Though we came to relax at a resort, and did not specifically go to any Disney parks we dined at many restaurants on Disney's Boardwalk, Downtown Disney Area, as well as the Grand Floridian Hotel. Below is a breakdown of my experience.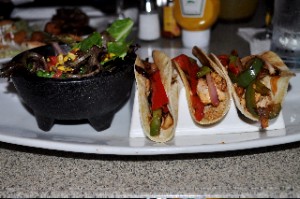 Paradiso 37, is a hip, but casual South, Central, and North American inspired cuisine restaurant located at Downtown Disney's Paradise Island. They offered many GF items, and many things could be made without cheese. Items that were fried were off limits because of cross contamination, however instead of frying the items you can request it be grilled. I order chicken tacos, with onions and peppers in a corn tortilla. On the side, I got a salad. The meal was flavorful and very yummy.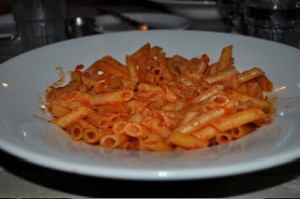 The next night we dined at Portobello (also at Downtown Disney) restaurant. For dinner I got the "value meal". It came with a house salad, a giant dish of GF pasta (I chose tomato basil sauce) and a dessert. Though I opted not to have dessert (I allowed my brother to have mine), the GF/ DF dessert option was mixed berries. Note: They do recommend that you make your reservation in advance to guarantee that they will have GF pasta on hand.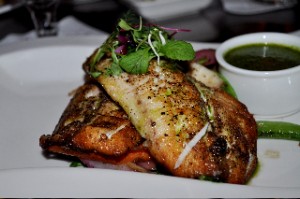 It is too hard for me to decide what my favorite meal was when dining at Disney.  However, it would have to be between the Tilapia dish I had at the Flying Fish Café (Disney's Boardwalk), and the Roasted Chicken Dish I had at the Grand Floridian Café. Not only did I love the atmosphere of the Flying Fish Cafe, but I loved before my meal I was able to enjoy a warm gluten-free roll! This was something I had not been able to enjoy at any of the other restaurants, so it was a really nice treat.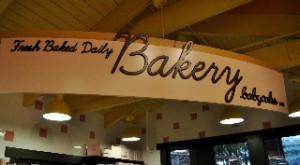 One of the places I was most excited to visit on our trip was Babycakes NYC! Their newest location is now open in Downtown Disney! I have been to the NYC location, and own both of their cookbooks. Needless to say I think their gluten-free treats are amazing! In addition to being gluten-free Babycakes is casein, wheat, soy, and refined sugar free, and is a kosher and vegan bakery. The bakery is a great new addition to Disney, and adds to the "magical experience" for us with food intolerances and allergies.
To say that I had a wonderful dining experience at all of the restaurants is an understatement. The experience that I had at Disney is one that can bring tears to my eyes. It was so nice knowing that each time I dined at Disney; I would be able to enjoy a safe meal without the worry.
Quick Tips for Dining at Disney with a Food Allergy or Intolerance:
Make your reservation in advance! Though many restaurants will accommodate you the day of, booking your reservation will eliminate stress and guarantee they will have the items on hand in order to make you a safe meal.
Many Reservations can be made online (some have to be done over the phone). Remember to click the food allergy notification option.
Before heading off to Disney, contact a representative regarding your dietary needs.  (

[email protected]

). They will send additional instructions as to how to request special meals, and will also provide you with a list of safe food items that you can find throughout the parks!
Candice has a fantastic gluten-free living blog called
Embrace G-Free
. Be sure to read more about her Disney trip there. You can also find her on Twitter at
@Candicerose90
and on
Facebook
.