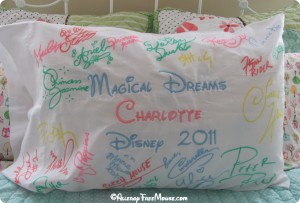 I found this really cute pillowcase on Etsy. Originally offered in red, yellow and black thread, I asked CrossbonesandCastles to change the thread color to Cinderella pink and blue. It matches my daughter's sheets perfectly!
Not only does it look really cute, it was a lot of fun having the Disney characters sign it. We used a clipboard inside the case and four big paper clips to provide a solid surface to sign. It also kept the fabric markers from bleeding on to the back side of the pillow case. We chose matching colors for each character, where we could, and then positioned the case for each signature, then handed them the pin. Most of them loved it and looked at all of the other autographs. I love Eyore's signature, and have a special place on the case for him to sign it on our next trip.
Our daughter wants all of the Disney Fairies to sign the back.
We've planned our next trip for October for the Mickey's Not So Scary Halloween Party and we're going to make a Halloween version for our living room. I'm thinking about a white zipped oblong sofa pillow to have all of the Disney villans sign! We'll post it once we get back.