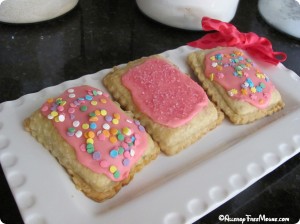 Our daughter had her first pop tart today! The recipe below is dairy-free and nut-free, but can also be made gluten-free and egg-free. This is a fabulous treat that we discovered in a very interesting way — see below.
Dough ingredients
2 1/2 c. all-purpose flour
1 t. salt
2 T. granulated sugar
16 T. Earth Balance Buttery Sticks (2 sticks)
6 – 8 T. ice water
1/2 c. filling (preserves, jam or brown-sugar cinnamon)
1 egg, beaten with 1 t. water
sprinkles (optional)
In a food processor, pulse together the flour, salt and granulated sugar until combined, about 5 pulses. Add the butter and process until the mixture resembles coarse meal, about 10 pulses. Add 6 T. of the ice water and pulse 2 or 3 times. The dough should hold together when squeezed with your fingers but should not be sticky. If it is crumbly, add more water 1 t. at a time, pulsing twice after each addition. Turn the dough out onto a work surface, divide in half and shape each half into a disk. Wrap the disks separately in plastic wrap and refrigerate for at least 2 hours or up to overnight.
Line 2 baking sheets with parchment paper. On a lightly floured work surface, roll out 1 dough disk into a rectangle 1/8 inch thick. Using the outer ring of a toaster pastry press mold (Williams-Sonoma), cut shapes out of the dough. Replace the inner ring of the mold inside the outer ring. Using a small offset spatula or butter knife, spread 1 T. filling on each of 4 pieces of dough, leaving a 1/2 inch border. Brush the edges with the egg mixture. Top each with a plain piece of dough, place the mold on top and press the inner ring down to seal the edges. Remove the mold. Transfer the pastries to a prepared baking sheet and refrigerate for 30 minutes. Repeat with the remaining dough and filling.
Position 1 rack in the upper third and 1 rack in the lower third of your oven. Preheat the oven to 350 degrees. Bake the pastries until golden, about 25 minutes, reversing the positions of the baking sheets on the racks  and rotating them from front to back halfway through baking. Let the pastries cool on the baking sheets for 10 minutes, then transfer the pastries to wire racks and let cool completely.
Brown-sugar cinnamon filling
1 egg white, at room temperature
3/4 c. powdered sugar
1/4 c. brown sugar
1 T. cinnamon
In a food processor, combine all ingredients and blend until well combined. Add more powdered sugar if the mixture needs thickening.
Frosting
1 1/2 c. confectioner sugar
2 T. coconut milk
Combined until a thick icing is formed. Spread on cooled pop tart and sprinkle with cinnamon or mix.
THESE ARE NOT TOASTER POP TARTS! REHEAT IN WARM OVEN IF NOT FROSTED! However, they taste great at room temperature!
I'm going to try these (omitting the sugar in the dough) with savory fillings, like BBQ chicken, pesto and tomatoes, spicy sloppy joe filling, Italian sausage and Daiya cheese. Wrapped in parchment and foil, they would make a great school snack or lunch item!
Thanks to one of our Facebook friends who "pinned" our July 4th Mason Jar desserts on her Pinterest page. We discovered this and had to find out more about Pinterest. Wow! I couldn't believe my eyes! An incredible site for those who love beautiful, visually interesting, images. I've requested an invite and can't wait to start my Virtual Pinboard.
Even better, one of her pinboards included a link to an image on TasteSpotting. Whoa! This is a visually driven recipe site. Each submission must have a link with more info, by way of a personal blog, news article, video or catalog. In other words, beautiful, stimulating images with links to detailed information for each one. Gotta love it!
Thanks also to Williams-Sonoma. The dough recipe was modified from their recipe on the toaster pastry press box.
Be our guest, be our guest, put our pop tarts to the test!