The retail bakery is now called Erin McKenna's Bakery. You can also find their products at select resort locations and they still supply allergy-friendly cakes to Disney restaurants.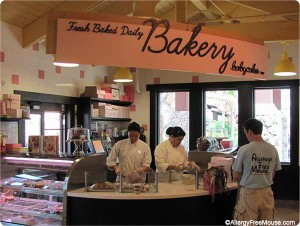 A "must" to visit during your Disney vacation. Babycakes NYC is located in Pollo Compero in Downtown Disney, near T-Rex and Lego Imagination Center. We stocked up several times during our last visit and refrigerated our cupcakes and doughnuts in our room. This bakery is a dedicated dairy-free, gluten-free, egg-free, and soy-free facility! They also have refined-sugar-free options, using agave syrup in place of refined sugar.
Our first visit was our daughter's first experience at a bakery, period. She was in awe of all the options available! She chose pink frosted doughnuts, a blondie cupcake, chocolate brownies with mint frosting, and a chocolate chip cookie. We were told to refrigerate the treats as soon as possible to prevent the frosting from melting. We went straight to the hotel and placed them in the refrigerator. This may seem inconvenient, but not if your child has never eaten a doughnut or a cupcake fresh from a bakery!
Go early for the best selection. We highly suggest buying several blondie cupcakes and brownies, because even those in your family without food allergies will be begging for more. Thanks to the manager, Emily, and the owner, Erin McKenna, for making it possible for children of all ages and adults to satisfy a sweet tooth at Disney!
Downtown Disney will now be one of our first and last stops when visiting Disney World.
Link to full allergy disclosure: https://www.erinmckennasbakery.com/allergy-info/