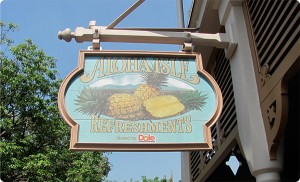 We know some people who seek this out when the first step foot into the Magic Kingdom. Located just inside Adventureland, this Magic Kingdom staple has made people smile for years.
Our daughter, allergic to dairy, cannot eat the ever famous Dole Whip. She could, however, eat the Pineapple Spear, but hey, it's just not the same! Anyway, we thought it important to "review" this restaurant because so many report on the web that the Dole Whip is dairy free. It is not dairy free! It contains sodium caseinate, a milk derivative.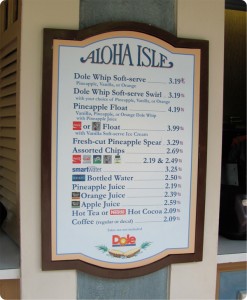 Casein is the milk protein, and what most people are allergic to when they have a true milk allergy, instead of a lactose intolerance.
Like always, be careful what you read on the internet. We strive to include the facts, but ingredients and food handling processes change. Be sure to verify everything on site before ordering.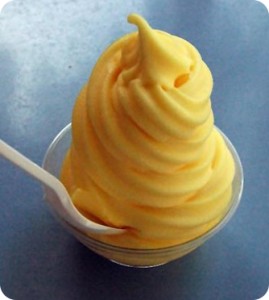 Disney rides typically allow parent swapping for thrilling rides that younger children can't (or don't want to) ride. So, one parent rides while the other parent waits with the child, then they swap. We do this for Dole Whips. While one of us is on a ride with our daughter, the other grabs a Dole Whip, being careful to wash our hands and mouth after the treat.
UPDATE: We neglected to mention that the Dole Whip is gluten free, according to Disney. We also have information on the "Dole Soft Serve" which is how the product is listed for sale at non-Disney restaurants. According to this, it is also lactose free. Plus, it's fat free, but who really sticks to a diet when eating at Disney?