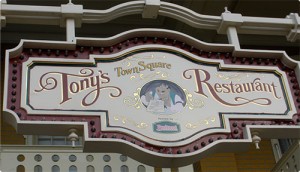 Italian food, American style. Pastas, salads, steaks and pizzas. Go to Tony's for the table service, if you want to be waited on and are in need of air conditioning. The food was okay, but nothing compared to Tutto Italia, Portobellos or Mama Melrose's Ristorante Italiano. If you have a Lady and the Tramp fan in your group, make sure to grab a photo in front of the statue inside.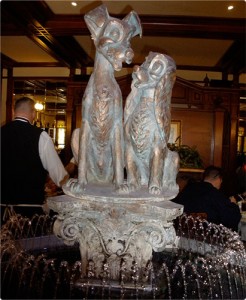 Since we had reservations and submitted our Special DIetary request form, they were aware of our little girl's dairy allergy. After meeting with the chef, he prepared her fresh pasta and a salad. I made the dressing at the table using supplied balsamic vinegar, garlic, mustard and oil, letting my daughter whisk it together in a small bowl. She really enjoyed it!
If you have eaten at Tony's Town Square with your food allergy, please take a few minutes and share our experience, below, in the comments. Or, even send us a full description of your dining experience and we'll post it, with your permission. Sharing your experiences will help other people make decisions with their food allergies.