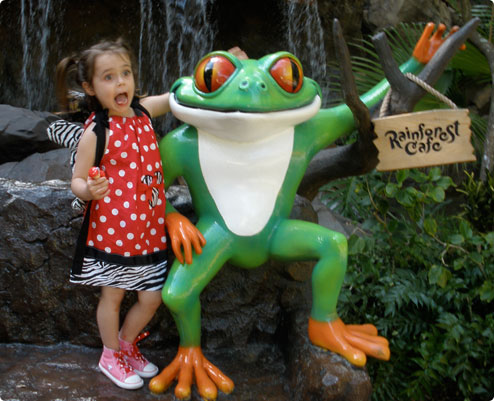 The Rainforest Cafe has two locations at Disney World, in Downtown Disney and outside the gates of the Animal Kingdom theme park. We've eaten at the Animal Kingdom location twice.
They serve breakfast, lunch and dinner in an atmosphere that includes trumpeting elephants, howling monkeys and gorillas, plus an occasional thunderstorm — it is a rainforest, after all. It's very fun and exciting for everyone.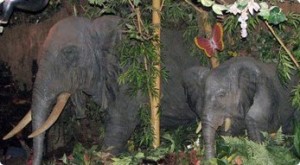 They have a mega gift shop filled with stuffed animals, games, clothing, toys and more. They have an old fashion photo booth to take pictures. Be prepared – everyone will want something from the gift shop!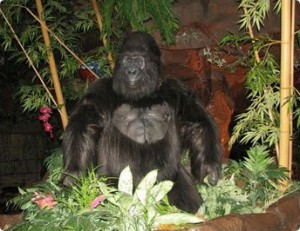 The Rainforest Cafe is not owned by Disney, however, they were very knowledge about food allergies. The waiter understood immediately that he needed to be careful with our daughter's food. He also asked the chef to come by and work with us directly on her meal. He prepared her nachos with grilled chicken, black beans, salsa, lettuce and guacamole. She loved every bit of it.
UPDATE 5/19/2011: Rainforest Cafe has changed the ingredients in some of their food items. Black beans now contain butter and corn, and the guacamole is no longer considered free of dairy cross contamination.
If you've eaten here with a food allergy, please comment or send us your experience. You're tips and advice will help many others enjoy the magic of Disney.