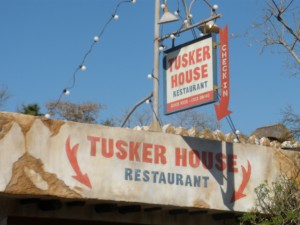 The Tusker House restaurant is located in the Harambe village in the Africa area of Animal Kingdom theme park. Breakfast is the character event, called Donald's Safari Breakfast, and includes Donald, Daisy, Mickey and Goofy, all dressed in safari gear. The breakfast buffet includes traditional American fare, plus a few unique African influenced dishes.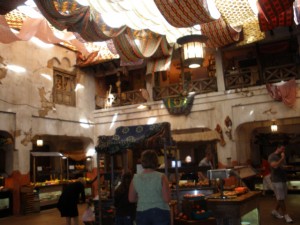 The breakfast buffet was fabulous! But the best part was the chef's treatment of our daughter's dairy allergy. He walked us through the buffet line, asking about her personal likes and dislikes, and about things my daughter could eat, and things she wanted to eat. Then he created a specially prepared dairy-free meal, which he cooked personally. The chef was every bit as wonderful as the Disney characters.
Lunch and dinner include a wide variety of African influenced vegetarian and meat-based options, including curried rice salad, hummus and baba ghanoush, Marrakech couscous, spiced tandoori tofu and spicy South African preserves, according to the menu.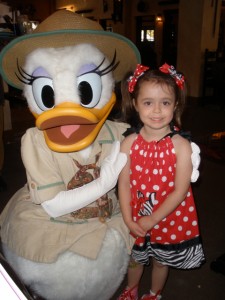 Price range: $15.00 – 35.99.
Be sure to identify your allergy requirements to the host or hostess, as soon as you arrive. And also mention your allergy to everyone who waits your table, and ask to speak to the chef before you head to the buffet.
Also, be careful when hugging the characters if you have a contact food allergy.