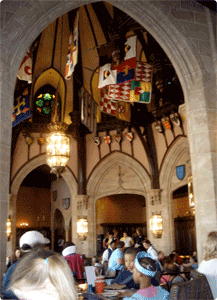 Cinderella's Royal Table is found in Cinderella's Castle, of course, set in a Medieval theme.  While Cinderella doesn't actually attend the event during the meal, other Disney Princesses do, including Belle, Snow White, Sleeping Beauty and Jasmine. Cinderella is available before the meal for photos, including personal and PhotoPass. Like most Character Dining events, your meal is served and the Princesses make their way from table to table signing autographs and posing for pictures. At some point during the meal, the girls will be given magic wands and the boys will be given swords. All will be given Wishing Stars and be prompted by the Fairy Godmother to grant wishes. Dinner now also includes the Princesses. Previously, the dinner time was more for romantic, adult time.
Price range: $36.00 – 56.99.
When you arrive, inform the hostess of your food allergy to be sure you are identified on the check, which will be passed along to your server. When he or she arrives, remind them of your allergy and ask to speak to the chef. When he or she arrive, they will gladly present you with options for dining free of your food allergy and answer any questions you may have about the food preparations and prevention of cross-contamination.
And for the rest of your dining party…
Breakfast
The breakfast meal includes all-you-care-to-eat American favorites including bacon, eggs, French toast, granola, yogurt and pastries. You also have your choice of juice, milk, coffee or tea.
Lunch
Lunch starts with a surprise specialty appetizer, then continues with a main course including choices ranging from pan-seared salmon to pasta al Pomodoro for the adults, and chicken strips or other favorites for the kids. The prix fixe menu includes your choice of beverage and desserts like a seasonal sorbet and chocolate cream cheese buckle.
Dinner
The dinner menu includes a choice of appetizer, followed by entrees like chicken, lamb or vegetarian cassoulet. The children's menu includes favorites like chicken strips and mini hot dogs. And, of course, every meal includes a choice of beverage.
The food was good, but nothing to be really excited about. That was okay, considering the real magic is in the experience of meeting the Princesses. However, keep in mind, that their visits are extremely brief since the have so many tables to visit. When one comes along, you have to be ready with your video and/or still camera, autograph book and have your little princess or pirate's face clean and photo-ready. They will only spend about a minute at your table. The kids don't seem to mind, though, because it is so exciting. For a more relaxing, less hectic Disney Princess meeting, try breakfast at Akershus Royal Banquet Hall at Epcot.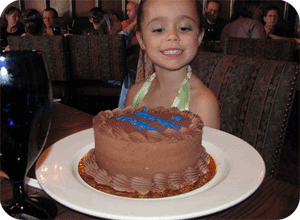 FOOD ALLERGY TIP!! We attend Cinderella's Royal Table on the first day at the "World" to kick off our trip. We go for lunch and order a dairy-free cake to be delivered. The cake is iced to say "Princess Charlotte" and thrills our daughter every time. Then, we take the cake back to our hotel room and store it in the refrigerator, where she can then eat it any time she chooses. Typically, while we eat cinnamon buns from the Main Street Bakery for breakfast, she dives into her cake! That's always enough to last her a full week!
Additional allergen-free cake options are available at most table service restaurants, with a 7-day notice. Call (407) 827-2253 for details and to order.