These are the best – a classic recipe we tweaked to be dairy free, using So Delicious Coconut Milk Creamer, Earth Balance Buttery Sticks. They taste just as delicious as traditional biscuits and are light and flaky.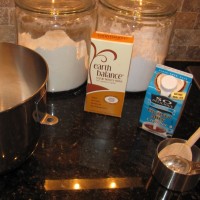 2 cups all-purpose flour
1 tablespoon baking powder
1 teaspoon sugar
1/4 teaspoon salt
1/2 cup Earth Balance Buttery Sticks, cut into pieces
2/3 cup So Delicious Coconut Milk Creamer
Preheat oven to 450 degrees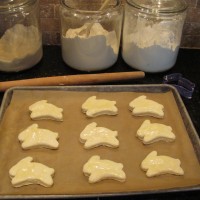 In a bowl stir together flour, baking powder, sugar and salt. Cut in Buttery Stick slices until mixture resembles course crumbs. Make a well in the center; add coconut milk creamer all at once. Stir just until the dough clings together.
On a lightly floured surface, knead dough gently for 10 to 12 strokes. Roll or pat dough gently to 1/2 inch thickness. Cut with a 2 1/2-inch biscuit cutter (we used a bunny shaped cutter for this), dipping cutter into flour between cuts.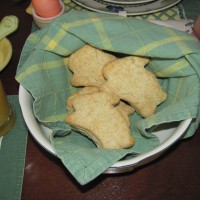 Transfer biscuits to a baking sheet and brush with melted buttery stick. Bake in a 450 degree oven for 10 to 12 minutes or until golden brown. Serve them while they're warm.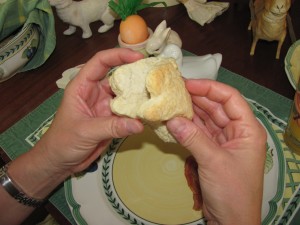 .