Tips from our readers – in their own words
Here are some fabulous tips for visting Disney with food allergies or other special needs. If you would like to share a tip, use this form.
Alecia
Tip summary:
Just ASK!
Location:
Parks and Resorts
Tell us about your tip:
The best advice I could give for those traveling to the World with allergies is also the easiest: ask. We were concerned while planning our first gluten free trip that we would have bland boring food like we had been offered at other places. When we arrived at Pop Century were not encouraged when looking at the menus at the food court, nothing seemed like anything we could have. When the chef came out and began to explain what they could do the light bulb went off and we began to speakup and ASK for what we would like. Mickey Waffles? No problem. Stir fry? Bring it on. Fried Chicken? Got it. We asked about donuts, cakes and chicken nuggets and were always greeted with a smile and rewarded with a large plate of VERY tasty food. Of course we were always friendly and accommodating on our part as well (great food takes time you know!) and made sure we tipped where appropriate. But the best thing we learned at our trip is by just simply asking our trip became even more magical.
Message:
We are a gluten free family of 4 who travels to The World yearly from
New England.
THANKS for the great site!
===============
Julianne C
Tip summary:
Speak To Restaurant, Prior to Reservations
Location:
WDW
Tell us about your tip: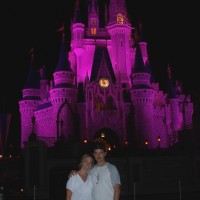 When I've visited Walt Disney World in Florida, I called the restaurants where I made the reservations, in advance, and let them
know what my allergy needs were. They were so accomodating! Willing to cook anything I asked for, and to leave out any ingredients I asked to leave out. I was really pleased with the dining experiences, too. Delicious!
The most recent time I went to Disney World, I carried a cooler with snacks and put it in my locker so that I could manage my hypoglycemia between meals.
============
Danielle B
Tip summary:
Healthy Foods
Tell us about your tip:
I would pack a backpack full of many healthy foods and snacks. Although Disney has good options, it is beneficial to bring small snacks such as applesauce(we love GoGo Squeez), wheat crackers, soy yogurt, granola bars, etc. This will cut down on costs and you will not get hungry when trying to find safe food around the park.
============
Tip summary:
Always Carry Wipes and Sanitizer
Tell us about your tip:
We always carry baby wipes and a small bottle of hand sanitizer. Since we don't like carrying a huge backpack, and the baby wipe package is quite large, we put 20-30 wipes in a small zip lock back, squeeze the air out and insert it inside our Epi-Pen case. There have been many times we've needed them to clean the hand rails on a ride that had ice cream on it (our son is anaphylactic to milk).
Tip summary:
Make Allergy Cards
Tell us about your tip:
Consider making allergy cards to bring with you. We printed many business card size pieces of paper with our allergies listed on them to give to the waiter and the chef to take back to the kitchen with them. We also added suggestions as to what we NORMALLY eat, which helps when you have multiple allergies. We also make sure we carry some snacks on us just in case we need a little something extra while touring, standing in line, or waiting for the fireworks to start. It's always best to do your research of menu items ahead of time, and be sure to add to your reservation that someone in your party has an allergy. This will be flagged in Disney's system, and a chef might even call you to discuss what they can do!