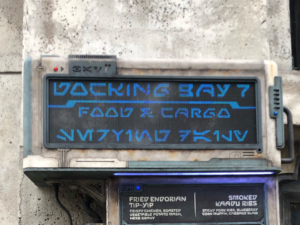 We dined at Docking Bay 7 during the opening week at Galaxy's Edge in Disneyland, but we've recently had the same at Disney World.
After waiting for the lunch crowd to die down, we ventured into this quick service and asked for a food allergy menu from one of the Batuu greeters. After reviewing all the options, trying to determine what might work for multiple food allergies to dairy, peanuts and tree nuts, we asked the cashier if we could speak to a chef or manager. And we were extremely lucky, as the chef who created the Docking Bay 7 menu was working. Chef Blaine asked us, not only about our allergies but what about the kinds of food our daughter liked. Then, he recommended the Felucian Kefta and Hummus Garden Spread and the Takodana Veggie Dippers Youngling Meal, with a slight modification to exclude the nuts.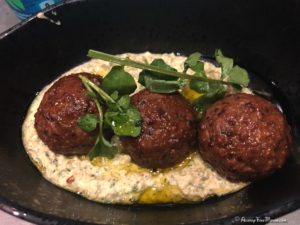 The Felucian Kefta is plant-based using the Impossible meat product, seasoned a bit, along with hummus and a tomato and cucumber relish, plus pita bread. It was good, but not great. For a "new" out-of-this-world creation, it was not as good as the food created for Satu'li Canteen in Pandora. But it was good, especially if you wanted to stay in Galaxy's Edge for a while. During the opening, we had a 3-hour time slot to explore the land, so we didn't want to leave for lunch.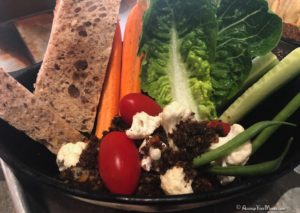 We also had the Takodana Veggie Dippers, which is black bean hummus, carrots, romaine, cucumbers, tomatoes, and green beans. It, too, was good for a snack and was great for our daughter's food allergies.
We also tried the Endorian Fried Chicken Tip Yip Youngling Meal, though our daughter could not have that. But since we were sampling everything, my husband and I thought it might be another tasty snack, and it was. Not great, but good.
We're hopeful that more choices come along that are both good for multiple food allergies and also delicious. This was a good start, especially considering it was the opening week. Chef Blaine was extremely helpful although he was extremely busy. And the atmosphere was really fun, too. As mentioned, we had these same options at the opening of Galaxy's Edge in Disney World. At that time, the menu options were identical, and we had the same result – it was good, but safe, which is the most important element. And, we've successfully eaten dairy, peanut and tree nut-free at both edges of the galaxy!
Docking Bay 7 Food Allergy Menus: Breakfast | Lunch & Dinner