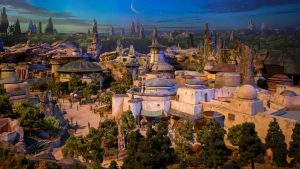 While we don't yet have information about food allergies for the Galaxy Edge dining experiences, we are getting a sneak peek from our friends at Galactic Mouse about the types of food we'll find in Black Spire Outpost. We expect, after the fantastic allergy-friendly options created for Pandora's Satu'li Canteen, there will be similar options at the locations listed below.
From GalacticMouse.com: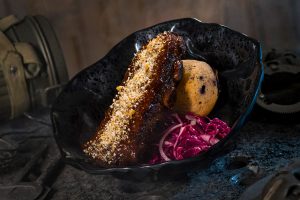 Docking Bay 7 Food and Cargo: We all have to eat, right? Chef Strono "Cookie" Tuggs has traveled throughout the galaxy following his longtime gig as the chef at Maz Kanata's castle on Takodana, surviving the attach of First Order. Now he brings exotic flavors and unusual dishes to his traveling diner "Tuggs' Grub."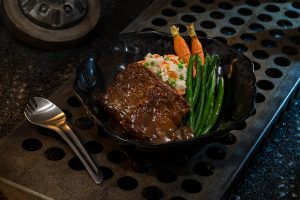 A sampling of what you will find at Tuggs' Grub, include the Ithorian Garden Loaf, a plant-based "meatloaf" that comes served with roasted vegetable mash, seasonal vegetables, and mushroom sauce. Another delicious option is the Smoked Kaadu Ribs, similar to country sticky pork ribs. They are accompanied by a unique blueberry corn muffin and cabbage slaw.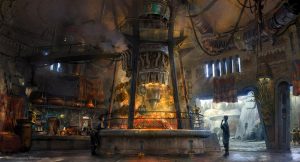 Ronto Roasters – This one features a unique twist, as a recycled podracing engine fires up a spit of exotic meats, meticulously turned by a former smelter droid, 8D-J8. Can't wait to try that one!
Kat Saka's Kettle – This one is a street market stalls, where the grain vendor sells the ever-popular Outpost Mix, which is a blend of sweet, savory and spicy popcorn.
Milk Stand – Another street market stall to get your farm-fresh blue milk or green milk, direct from Bubo Wamba Family Farms. Mmm, sounds delish. (of course, those with dairy allergies will skip this one entirely, unless the offer some dairy-free choices)
As you can see, no food allergy information, yet. We'll pass it along as soon as we get it, likely in June or July, when we visit Disneyland's Galaxy's Edge. Read the latest Disney Star Wars news at Galactic Mouse.