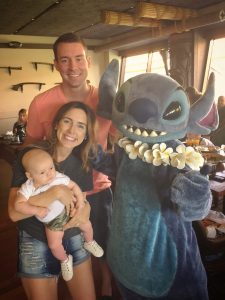 This quick review was provided by Laura, is allergic to soy and dairy.
We attended the character breakfast, which was awesome, and so was the food. The waitress worked with the chef, both checking on us frequently to ensure we got what we needed and were satisfied.
The chef personally delivers all of my safe foods. I could not eat the bread, but I didn't need it! The waffles, eggs, breakfast sausage, potatoes and fruit were all awesome! I had my own plate and they have the Earth Balance soy free "butter" which I love. Beware of syrup if you have a dairy allergy. All around Disney, they use butter in their syrup. Ask for the pure maple syrup. It's delicious too!
Recommend 'Ohana for soy and dairy free?: Yes
If you would like to review 'Ohana or any Disney restaurant, submit a food allergy dining Quick Review.