This quick review was provided by Brian, whose wife avoids gluten.
We went to 50's Prime Time specifically for my wife to have the gluten free fried chicken. We followed all of the suggestions online, we listed the allergy when making the reservation. We called Disney dining two hours ahead as suggested, they said there was no need to call ahead. When we got to the restaurant gluten free fried chicken was not an option, our waitress Tiffany said that you need to call the restaurant 24 in advance. This is evidently because they do not keep the dedicated allergen fryer at temperature at all times.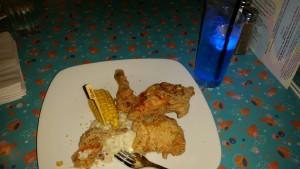 She got chef Frank who said no worries the oil was already at temperature. They got the bartender to customize a wheat free cocktail, and my wife actually cried when she ate fried chicken for the first time in 5 years. The take away is leave nothing to chance, call the restaurant directly the
day before your reservation. The staff was really great, and very accommodating.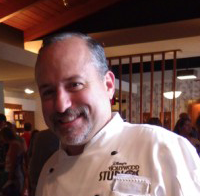 Recommend 50s Prime Time Cafe for gluten free?: Yes
If you would like to review 50s Prime Time Cafe or any Disney restaurant, submit a food allergy dining Quick Review.