This quick review was provided by Norienne, who is gluten free due to Celiac Disease.

My husband and I ate here for lunch and liked it so much we came again for lunch two days later. It is very easy to dine here with dietary restrictions. You either order via touchscreen or you place your order with a cast member (we ended up ordering both ways). If you are using a touchscreen, there is a place where you can indicate any allergies, and the menu updates to display what your options are. There were a surprising number of gluten-free options.
If you don't have a magic band (we did) you are given a rose to place on your table so that the cast members know where to deliver your food. The dining areas of the restaurant are absolutely beautiful. We ate for the first time in the west wing, and the second time in the main ballroom. Both rooms were very detailed in their theming.
The first time we ate here, I ordered the roast beef sandwich. It came on what I'm pretty sure was an Udi's hot dog bun. The bun was a little dry, but the roast beef was tender and went well with the horseradish sauce and arugula. The french fries were also made in a designated fryer and thus safe to eat.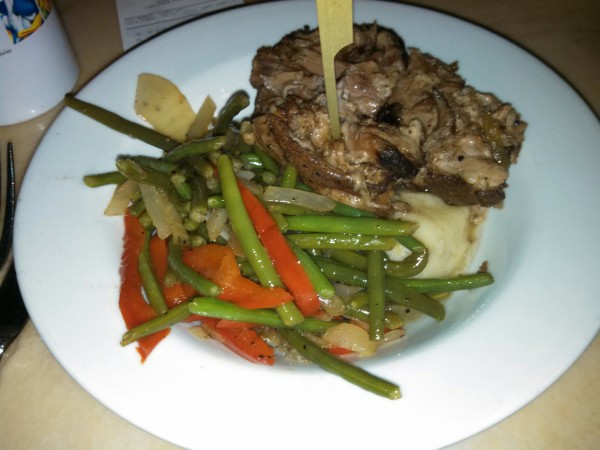 The second time we ate here, I had the braised pork with green beans and mashed potatoes. It was the best meal I had at any quick-service restaurant, and had the quality of a table-service restaurant. The green beans had a wonderful texture and were well seasoned and cooked with onions and bell peppers, the mashed potatoes were wonderfully creamy and seemed to be made fresh, rather than from mashed potato flakes. The pork was well-seasoned and just melted in your mouth. I will be ordering it every time I eat here in the future.
There is only one gluten-free option for dessert: a lemon-raspberry cream puff. It is very good, with a smooth and tart lemon curd filling, some whipped cream, a fresh raspberry, and a small square of chocolate with "Be our Guest" written on it in gold.
I loved every part of eating here from the ambiance to the food, and we will definitely eat here again.
Recommend for gluten: Yes
If you would like to review Be Our Guest or any Disney restaurant, submit a food allergy dining Quick Review.