This quick review was provided by Rita, who is allergic to gluten.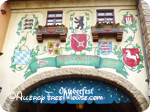 The buffet at Biergarten gave me plenty of variety and choices. I have celiac disease and cannot have any wheat gluten. The pleasant manager/chef came out and walked me along the buffet and told me what was gluten free and what was not. I was even given a dessert just for me. It was wonderful!
Recommend for gluten: Yes
If you would like to review Biergarten or any Disney restaurant, submit a food allergy dining Quick Review.