This quick review was provided by Amanda, whose daughter is allergic to peanuts.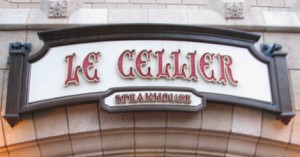 We made advance reservations to eat here for lunch. Although this was not our first trip to Disney, it was the first trip with our PA daughter. I had heard great reviews about Disney and food allergies but was still nervous.
We didn't have to wait too long to be seated. Our waitress was friendly and when I mentioned our daughter's allergy (I had also noted it on the reservation) she said she would note that on the order and make sure the Chef knew. I asked if we needed to speak to him ourselves and she said she would send him out if we wanted but that she would make sure he knew. She wasn't pushy or anything, she just seemed like she understood our situation so I was okay with that.
My Husband and I ordered the much talked about "Le Cellier" Mushroom Filet Mignon & Cheddar soup and my 2 daughters ordered pasta with marinara sauce. It really was just as good as I had heard. Yum! My daughters enjoyed their lunch. After we were finished the waitress offered to bring out sundaes for the girls if we wanted to do dessert. This is where I hesitated. We had never ordered dessert for my daughter at a restaurant. Would it be safe? The waitress assured me they would make sure it was peanut free. She just really reassured me so I said okay and they brought out the sundaes. My daughter's (with the PA) sundae came out with a food allergy alert pick sticking out of her sundae and no sprinkles. The chef brought these out himself and was very friendly. The only complaint…very minor…was that my other daughter's sundae had sprinkles on it because she does not have any food allergies. Luckily, there wasn't too much complaint from my PA daughter but could have been a total meltdown-one sibling getting something different from the other! All in all we had a fabulous experience here with no problems.
Recommend for peanuts: Yes
If you would like to review Le Cellier or any Disney restaurant, submit a food allergy dining Quick Review.