This quick review was provided by Nicole, who is allergic to gluten and tree nuts.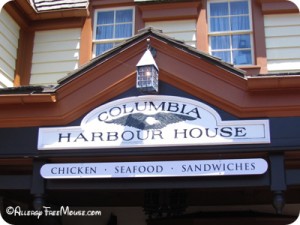 OH my goodness. The chicken tenders. I LOVE the chicken tenders at the Columbia Harbor house. Gluten free, they were always moist and well seasoned. I paired them with the broccoli. If you are looking for a quick pick me up, small lunch or dinner, this is a good plate. It doesn't weigh you down, and you get at least three good sized tenders.
I was never hungry after leaving, and the atmosphere was awesome- It's much bigger on the inside than expected. Grab an upstairs room for a quiet retreat – strollers often don't make it up the stairs, so it tends to house couples and families with older kids. Lots of little nooks to find and hide away in from the heat!
Recommend for gluten and tree nutes: Yes
If you would like to review Columbia Harbour House or any Disney restaurant, submit a food allergy dining Quick Review.