This quick review was provided by Gretchen, whose son is allergic to peanut, cashew, egg, and dairy.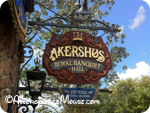 About 5 minutes after being seated, a chef arrived at our table to walk us through the appetizer buffet. He wouldn't prepare anything for us in the kitchen, but just told us to avoid baked items like bread. I was not impressed. The chef came back to our table and said he could make baked chicken and potatoes with carrots, corn and fresh fruit.
Even though it was ordered before the rest of our party's entrees, DS's allergy-free plate didn't arrive until a full 10 minutes after everyone else had started eating. I'm glad we had brought our "just in case" stash of food for him to snack on while our 3yo waited impatiently for real food. His older sister was the reason we ate here (princess dinner), but the 3yo boy enjoyed it all, too. If you have a girl enamored with princesses, it might be worth it. But for boys….I'd pass and find somewhere else.
Recommend for peanut, cashew, egg, and dairy: Maybe
If you would like to review Akershus Royal Banquet Hall or any Disney restaurant, submit a food allergy dining Quick Review.