This Disney food allergy review is from Ted, who has a milk allergy in his family.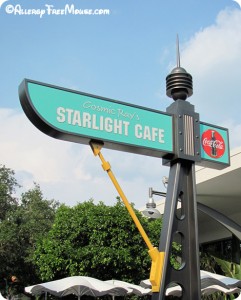 My wife and I dined at Cosmic Ray's Starlight Cafe at the Magic Kingdom Park in Disney World. This place was our second favorite place to dine at any of the Disney World theme parks. The chefs came out and talked to us, and asked what we wanted. We were dining with a milk allergy, so they showed us our options. We chose the 1/2 rotisserie chicken with two sides of french fries. I believe the meal we ordered usually comes with 1/2 chicken, french fries, and a side of green beans. However, we did not select the green beans and instead chose two sides of french fries. We split the meal between both of us, and it was plenty of food and tasted great. Although the french fries may not be the healthiest choice, the chicken seemed healthy and tasted great.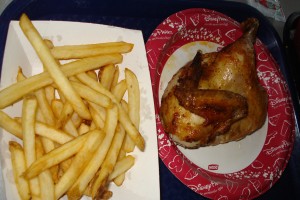 We dined here during the second week of May 2012. Both times we dined here, the chefs were wonderful and brought our meal to us himself. I would suggest bringing many snacks for your trip because many of the quick-service meals at WDW offer very similar options, so it is nice to have snacks.
They do sell some allergy-friendly snacks/treats around the park. We saw Enjoy Life chocolate bars and Surf Sweet's gummies around the park. We had a wonderful trip, and I would suggest trying Cosmic Ray's Starlight Cafe to anyone dining with food allergies.