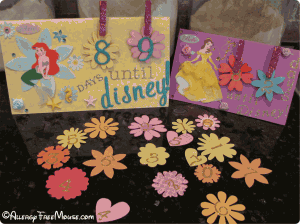 I've always wanted to make a countdown calendar for my family and finally did it. Well, actually I had to make two, since our daughter's friend is coming with us to the Girl Scouts 100th Anniversary at Epcot. Check out this super cheap Disney deal for Girl Scouts.
I made both from the stiff cardboard backing of two notepads. I scored them, covered them with paper and stickers. Then, I took pre-cut flowers from an American Girl craft pad that I purchased from Michaels. I then applied self-adhesive chipboard numbers to the flowers.
I added Glue Dots to the glittery clothespins and voilà, a countdown calendar!