We are so excited to have Karen provide this guest review of her gluten free dining experiences at Disneyland.
The Happiest Place on Earth just got a little happier, because Disneyland serves gluten free food! It's true! At Rancho del Zocalo, a quaint Spanish-style restaurant near Big Thunder Mountain Railroad, I spoke with the chef, and she instructed the cooking staff how to prepare my gluten free meal. I enjoyed an enchilada for the first time in a long time! Delicioso!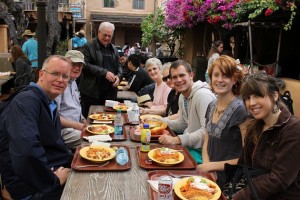 Mexican food isn't the only thing that's gluten free at Disneyland, though. Apparently, they offer gluten free pizza at Redd Rockett's Pizza Port in Tomorrowland and many other items throughout the park! In fact, I ordered an ice cream at Gibson Girl Ice Cream Parlor on Main Street, U.S.A., and the staff turned into the enchanted servants from Beauty and the Beast, washing ice cream scoops and opening new tubs of "non contaminated" ice cream to ensure a gluten free experience!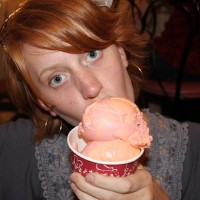 Now, if only New Orleans Square could come up with a gluten free sourdough bowl with gluten free clam chowder, it really would be the place where dreams come true!=)
For more gluten free tidbits by Karen Pickrell, visit kareninreallife.com!=)
Thanks to Karen, for submitting her gluten-free adventures in Disneyland! If you found this helpful, please be sure to give her a thumbs up or share this on Facebook.