We are excited to have Janet provide this guest review of her Disney Cruise experience.
It was our first time going on a cruise. The first time taking our children on a cruise. The first time take children with food allergies on a cruise. We are going to be in the middle of the ocean or at an island in the Bahamas. Let the panic commence! But wait, this is a Disney cruise. Remember how great Disney is with food allergies. Begin calming down.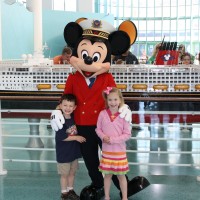 We went on our first Disney Cruise in March/April of 2010. We had loved taking our allergy kids to Disney World in 2008 so I was hoping for the same type of experience on the cruise. Both of our kids are allergic to eggs and our daughter was allergic to milk also. This was a family trip, and I wasn't in charge of booking anything, so I called Disney with lots of questions. Yes, they would make a note that our two little travelers had food allergies. No, they could not tell me specifically what foods would be available for our allergy needs. I decided we were going to see Mickey and go to the beach, so the kids would have a fabulous time even if they only got cereal and juice on the cruise. Of course, Disney far exceeded my expectations.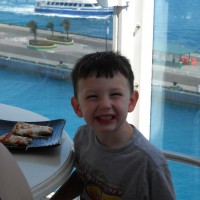 We arrived at Port Canaveral an hour before boarding time, and that worked out perfectly. We got checked in, had our picture taken with Mickey, and got our kids their ID bracelets. These bracelets stay on the entire cruise and are used at the kids clubs. You can give medical information during the registration process to get the bracelet and request your child not be given any food at the kids clubs. Once we were allowed on the ship we headed straight to Parrot Cay for lunch. This was a buffet and as soon as we let our server know we had food allergies a chef came and spoke with us. This was just like Disney World. Perfect!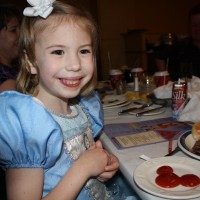 We met our servers that would be with us for our voyage at dinner that evening. Our main server knew in advance that the kids had allergies. We discussed it and at every dinner after that there was no explanation needed. It was beyond fabulous to walk to our table at every dinner and not have to go over our allergies. The soy milk was already waiting for our kids and the server knew their options for the evening. The pizza on board was egg-free and our kids could order plain meats, plain fruits, and plain vegetables or fries. Rice Dream ice cream was available every night, so no skipping dessert for the kids either!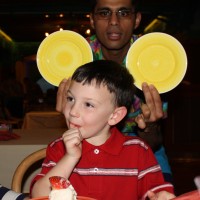 Breakfast and lunch are on your own on the ship. You can walk into a restaurant or eat counter service on the deck and just speak to the chef or manager about your allergies. Most of our breakfasts and lunches we chose to do counter service because they were quicker. Our kids had lots of activities they wanted to do and an hour long meal wasn't on the list! For breakfast the kids ate lots of cereal and fruits. The cereal was in individual containers, so we had no concerns about grabbing it off the buffet. Lunch options included pizza, hamburgers, and hot dogs. The day spent at Castaway Cay you have the option to eat on the island or reboard the ship for lunch. We were impressed that we were able to feed the kids hot dogs and fruit at Cookies BBQ by the beach. We only ventured into a restaurant once for breakfast since it is hard to avoid egg and dairy at that particular meal.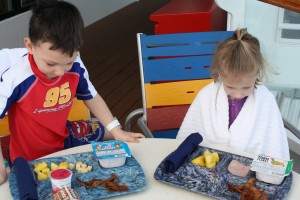 They were wonderful and found a french bread my daughter could have. Magically, our server appeared with this same bread that is only served at breakfast for dinner that night. This is an example of what sets Disney apart. They go above and beyond to make their guests happy!
Eating with food allergies on a Disney cruise was a wonderful experience. There is really minimal planning needed. Just be sure to let the cruise line know when you book or at least a month in advance that you have special dietary needs. Talk to the managers at quick service locations or the chefs at buffets. Don't be shy about asking for what you want or need because they really are happy to make sure you have a safe and delicious meal. We hope to go on another Disney cruise while our kids are still small. We will pack our bags and head south with complete confidence that our children will eat safely and eat well during our trip!
Thank you, Janet, for sharing this Disney Cruise experience! If you found this helpful, please be sure to give her a thumbs up or share this on Facebook.