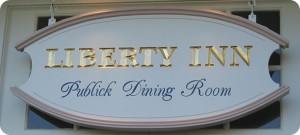 America is truly wonderful, especially in Epcot! It's great place to cool down on a hot day, half-way through a tour of the World Showcase. The Liberty Inn quick service restaurant boasts a fountain and fabulous air conditioning!
After talking to the manager, we felt safe ordering a meal for our daughter.  She had allergy free chicken nuggets, a salad, apples, french fries and carrot sticks. They gave her an allergy free (French Meadow Bakery) brownie without asking. The manager was so understanding and thoughtful. I wish I had remembered her name. We'll have to track her down on our next visit!
I ordered the grilled chicken salad with romaine lettuce and my husband ordered the iceberg wedge salad with chicken. We were thrilled to beat the heat and grab a quick bite in a safe and caring place, tucked away in America. Don't miss the Colony Flags, and the hidden restroom, tucked away in the back – it was so clean, as if it were barely used.
Gluten Free items at the Liberty Inn
Hamburger with EnerG Foods Hamburger Bun
Hot dog with EnerG Foods Hot Dog Bun
Macaroni and Cheese (Amy's)
Baked Fries with Advance Notice
Grilled Chicken
Grilled chicken sandwich on EnerG Bun
Gluten free salad dressing
Chocolate Chip Cookies (GLP)
Brownie (GLP)
Fruit Cup
Grapes
Baby Carrots
Rice Dream
Tofutti
Dairy Free items at the Liberty Inn
Hamburger with EnerG Foods Hamburger Bun
Hot dog with EnerG Foods Hot Dog Bun
Breaded Country Fried Chicken Tenderloins
Baked Fries with Advance Notice
Grilled Chicken
Grilled chicken sandwich on EnerG Bun
Dairy free salad dressing
French Meadow Bakery Brownie
Divvies Cookies
Fruit Cup
Grapes
Baby Carrots
Peanut Free items at the Liberty Inn
Hamburger with EnerG Foods Hamburger Bun
Hot dog with EnerG Foods Hot Dog Bun
Breaded Country Fried Chicken Tenderloins
Grilled Chicken
Grilled chicken sandwich on EnerG Bun
French Meadow Bakery Brownie
Fruit Cup
Grapes
Baby Carrots
Tree Nut Free items at the Liberty Inn
Hamburger with EnerG Foods Hamburger Bun
Hot dog with EnerG Foods Hot Dog Bun
Breaded Country Fried Chicken Tenderloins
Grilled Chicken
Grilled chicken sandwich on EnerG Bun
French Meadow Bakery Brownie
Fruit Cup
Grapes
Baby Carrots
Egg Free items at the Liberty Inn
Hamburger with EnerG Foods Hamburger Bun
Hot dog with EnerG Foods Hot Dog Bun
Breaded Country Fried Chicken Tenderloins
Grilled Chicken
Grilled chicken sandwich on EnerG Bun
Fruit Cup
Grapes
Baby Carrots
Soy Free items at the Liberty Inn
Hamburger with EnerG Foods Hamburger Bun
Hot dog with EnerG Foods Hot Dog Bun
Breaded Country Fried Chicken Tenderloins
Grilled Chicken
Grilled chicken sandwich on EnerG Bun
Fruit Cup
Grapes
Baby Carrots
Fish / Shellfish Free items at the Liberty Inn
Hamburger with EnerG Foods Hamburger Bun
Hot dog with EnerG Foods Hot Dog Bun
Breaded Country Fried Chicken Tenderloins
Grilled Chicken
Grilled chicken sandwich on EnerG Bun
Fruit Cup
Grapes
Baby Carrots