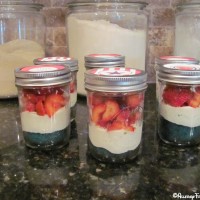 Fireworks above of our town's historic (built in 1884) courthouse called for a festive, no mess, and easy to transport dessert.
Since Mason jars are an iconic American creation, invented in 1858 by Pennsylvanian tinsmith John Landis Mason, I thought, "why not serve dessert in these?"
I made a blue dairy-free (or a cake free of your allergen) cake with tart lemon frosting, and topped with fresh organic strawberries. I affixed labels to the Mason jars and viola! Individual desserts for everyone in our party. All I had to do was take spoons and napkins, then hand them out to the crowd just before the fireworks!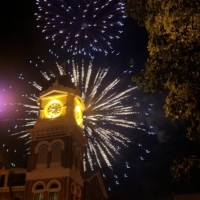 Here's how I did it…
I prepared our dairy-free cake and tinted it blue. Spray the jam/jelly Mason jar with spray oil. Fill 1/4 of the way with batter. Bake on a preheated cookie sheet according to your recipe's recommended temperature and adjust the time. Our little cakes cooked at 375 degrees for 18-20 minutes. Then I let them cool, while I made the frosting and chopped the strawberries. Once the cake was cool, I added frosting in the jar to 3/4 full. Then I topped with the chopped strawberries. Yum!
Frosting recipe:
1/2 c. Spectrum shortening
2 c. powdered sugar (I reluctantly use traditional sugar, because organic powdered sugar will not make white icing, instead looking off-white and dingy!)
3 – 4 T. rice milk
1 1/2 – 2 t. of Frontier Natural Lemon flavoring
Beat shortening and lemon flavoring for 30 seconds. Add 1/2 of the powdered sugar and 2 T. of milk. Beat well. Add in remaining ingredients. Add more powdered sugar or milk until desired consistency. Also add lemon flavoring until desired taste!
White cake recipe:
Substitute GF flour or egg replacer if desired
4 egg whites
2 c. all-purpose flour
1 t. baking powder
1/2 t. baking soda
1/2 t. salt
1/2 c. Earth Balance butter, softened
1 3/4 c. sugar
1 t. vanilla
1 1/3 c. rice milk
Allow egg whites to stand at room temperature for 30 minutes. Preheat the oven to 375.
Beat Earth Balance butter on high speed for 30 seconds. Add sugar and vanilla. Beat until combined. Add egg whites, one at a time, beating well after each. Alternate adding flour and milk, beating on low speed after each, just until combined.