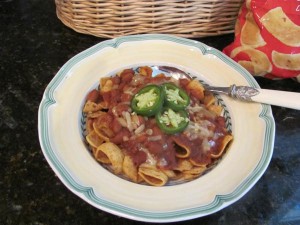 Due to allergies, and trying to eat healthier, my wife created this vegetarian Texas "Bowl of Red" chili, that tastes like the real deal. You'll never miss the meat and it hasn't been replaced by veggies and tofu. A true Texan would never do that! It's just great chili flavor!
Serve over Fritos and sprinkle with cheese (we used Daiya), fresh jalapenos and onions, if you like. Also great on hot dogs, cheese enchiladas, corn bread and nachos with queso and guacamole.
Ingredients
1/2 teaspoon ground red chili powder
2 tablespoons of canola oil
1/2 onion, chopped
2 cloves of garlic, minced
3 dried ancho chiles
1 32oz. carton Wolfgang Puck vegetable broth
1 jalapeno chili, minced
1/2 teaspoon cumin
1 1/2 tablespoon chili powder
1/4 teaspoon dried oregeno
3/4 teaspoons of salt
1/2 teaspoon of pepper
4 cans pinto beans
Heat canola oil over medium low heat.
Add garlic and onions and cook until crisp-tender, about 4-5 minutes.
Meanwhile, soak ancho chilis in 1/2 cup of hot water for about 30 minutes.
Add beans to pot, along with remaining ingredients.
Remove 2 cups of beans and puree in a blender or food processor, then add back to pot.
Drain and puree chilis and 1/4 cup water in blender or food processor, then add to the pot.
Bring to a boil, then cover pot, reduce heat to low and simmer for 2 1/2 hours, stirring occasionally.