The best Disney Princess experience
Located in the Norway Pavilion in Epcot, Akershus Royal Banquet Hall provides a true Disney Storybook Dining experience. Like Cinderella's Royal Table, the setting is medieval and there are plenty of Disney Princesses roaming around, signing autographs and posing for pictures. The difference is that it is much more relaxed and the Princesses spend more time at your table.
Price range: $15.99 – 35.99.
Enjoy breakfast, lunch and dinner in a Norwegian castle. The breakfast is served family style and contains more American fare, while lunch and dinner are more authentically Norwegian.
We prefer the breakfast, complete with a potato dish that is part casserole and part home fry. It's truly delicious. The meal also includes bacon, sausage, scrambled eggs, fruit, biscuits and pastries.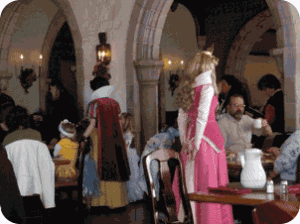 Lunch entrees include a salmon burger, open-faced chicken sandwich, Kjottkake (Norwegian meatballs), venison sausage sandwich, mushroom-stuffed pasta and oven-roasted chicken breast. Dinner includes pan-seared salmon, oven-roasted chicken, Kjottkake, mushroom-stuffed pasta, pork tenderloin, seared herb-dusted beef tips and the chef's catch-of-the-day.
Kids entrees include grilled chicken breast, cheese ravioli, pizza and hot dogs.
When we arrived, we discussed our daughter's dairy allergy with the hostess. The hostess informed the server of our daughter's allergy, and we confirmed it with her. After meeting with the chef, he prepared our daughter scrambled eggs, bacon, dairy-free waffles, and fresh fruit. The meal was wonderfully prepared and completely dairy-free.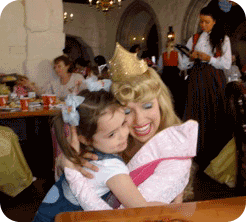 The Disney Princess visits are much more relaxed at this Character Dining event. They make their rounds, visiting each table in turn, signing autographs and talking with the kids. They will allow you plenty of time to take photographs and videos, making sure you get a good shot.
There is no guarantee of the Princess line-up, though it's highly unlikely that Cinderella will be there. Belle is the first Princess you meet. As you enter, you're allowed to pose with her for personal and PhotoPass pictures, plus an autograph. The rest of the Princess encounters may include Snow White, Sleeping Beauty, Ariel, Jasmine and Mulan.
It's an over-all, fabulous experience for the Princess meetings, food and especially the allergy-free food preparation.