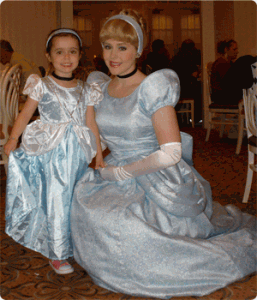 Located in the Grand Floridian Resort, this is a great Character Dining event, if you're there for the characters. We attended the Cinderella's Happily Ever After Dinner. As a buffet, it was "fair" for dinner. It included a wide variety of items, including steak, chicken, vegetables, salad, pasta and pizza.
Of course, our daughter, having a dairy allergy, did not eat from the buffet. As we arrived, we confirmed that the hostess had our allergy information from our reservation. She relayed this to our server, and we further discussed the allergy with her.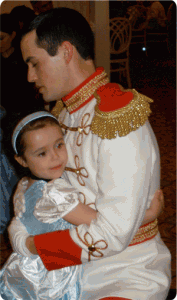 Our waitress requested the chef, who then walked us through the buffet. Since the buffet had a lot of cheese items, and the room was filled to the brim with kids waiting to see Cinderella, Prince Charming and friends, we felt that cross contamination was certainly occurring and requested the chef prepare something fresh. He was more than happy to oblige, and we decided on allergy free chicken fingers, french fries, fruite and a salad.
This dining event was early in our trip, so we chose to have a dairy free cake delivered for dessert, as we did for Cinderella's Royal Table later that year. Therefore, we didn't have dessert from the buffet either, though there were a lot of choices.
But again, the best part of the event was meeting Cinderella and Prince Charming. However, Cinderella's step-mother, Lady Tremaine, and step-sisters, Anastasia and Drizella, nearly stole the show. They were hilarious! Incidentally, you can also catch them outside the Cinderella's Castle, where they also put on a really funny show. But this is one of the only places to meet Prince Charming.
The breakfast and lunch events at 1900 Park Fare feature the characters from Alice in Wonderland and are known as the Supercalifragilistic Breakfast and the Wonderland Tea Party, respectively.
Price range: $15.00 – 35.99.
The 1900 Park Fare pre-show
Another fun part of the evening was before dinner. While waiting in the lobby of the Grand Floridian for your reservation, a crowd of little Princesses and their parents fill the lobby. A pianist plays and the Princess eventually gather, and sometimes dance.

FOOD ALLERGY TIP: The allergy free cake
This has become a tradition of ours. We order this dairy free cake early in our trip, so that we can have an allergy free desert every night of the trip — and sometimes for breakfast.  Allergen free cakes are available at most table service restaurants, with a 7 day notice. Call (407) 827-2253 for details and to order.
UPDATE: BabyCakes NYC in Downtown Disney now delivers allergen free and vegan cakes to most table service restaurants. Call (407) 938-9044 for details. A wide range of flavors and options available. A minimum 7 day notice is requested.